Dates of Practical Days and Exams 2015-16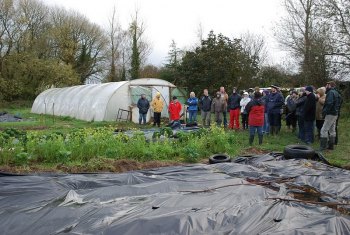 Winter practical day
All days are Saturdays and Sundays.
All days run from 10am to 5pm at the college
Autumn Nov 7/8
Winter Feb 6/7
Exams April 2/3
Spring April 23/24
Summer July 9/10
Winter Practical weekend Details 6th and 7th February 2016.
All assignment are due this weekend - no exceptions
Both days will run from 10am to 5pm.
Remember to dress warm and bring your wellies and a raincoat
It will be a busy weekend and I really hope you can all attend one of the days. The practical weekends are an important part of the course and it is where you meet other students and get hands on experience about growing vegetables in a sustainable way. It is also important to attend for the assignments as you get to see some of them demonstrated on the day which makes writing them up a little easier. Remember if you miss the practical weekend you will need to demonstrate that you have done the practical assignments at home ( and must include photographic evidence).
Please be on time as classes will start at 10am sharp.
Saturday will be a busy day so it would be great if everyone tries to arrive and be in class by 10am. I'll have coffee and tea available from 9.30am
Saturday 7th February 10am to 5pm
Saturday is for year 1 students
On Saturday we will cover the first 4 modules of the course: Organic Fruit and Vegetable production , Soil Science, Plant ID and Organic Principles and Standards
For students doing the first four modules remember you will have four exams to prepare for in April; two of them are very short exams - so nothing to worry about.
10am to 12pm Soil Science, Fruit and Veg production
The time is not set in stone but we will start the morning off with Soil Science followed by Fruit and Veg production. We will go through the next assignment for each module and briefly run through the notes covered in each module and then take a look at a sample exam paper for each module. I want to make sure that everyone is comfortable with all topics that need to be studied for the exams in April.
For the soil science assignment we will be looking at the pH and nutrients of soils. I will need you to bring along some water samples and soil samples to test for the PH levels. Only about a tablespoon of soil ( take it from about 4 inches deep) and about 50mls of water from the source you use in the garden or polytunnel (if you use water from a rain barrel bring that). This way we can test from a variety of different water and soil types and do some comparisons. We will probably do this test in groups of twos or threes so no stress if you forget to bring along a sample. Also no worries if you can't bring a water sample as i"ll have some distilled water for us to try.
12pm to 1.30pm Plant ID
Before lunch Sinead will take us outside and give a tour of the college gardens helping us to identify trees and plants at this time of year. This will be of benefit to those of you doing Plant ID. We will also look at winter pruning of apple trees and fruit bushes.
Lunch will be from 1.15 to 2pm. Email Sinead with your lunch request at: sinorganic@gmail.com. Please order lunch before Thursday to allow Sinead and Derek enough time to prepare. The menu is on the general forum.
2pm - 3pm Fruit and Vegetable production
3pm onwards - Organic Production Principles and Fruit and Veg Productions
From 3pm onwards we will head back into the classroom and discuss the assignment for this Org Principles and Standards. We will do some revision for exams and look at a sample exam paper. I will also cover green manures and help you decide on the best varieties to use for spring planting.
4.30 to 5pm The last half hour of the day will be a question and answer session so please write down any gardening questions you have and I will do my best to answer them.
Sunday 8th February
Sunday is for year 2 students
On Sunday we will cover the last 5 modules of the course: Plant Science, Plant Protection, Plant propagation, Communications and Work experience. For those of you doing these modules you will have exams to prepare for in Plant Science, Plant Propagation and Plant Protection.
10am to 1030am Work experience
First thing in the morning we will again run through options for students doing work experience this coming term. Doing work experience is a compulsory part of this module and also I feel a very important part of the course. It is the one opportunity where you will get hands on experience working on a organic farm. Some of you already have your work experience organised which is great. For those of you still not sorted I will bring along another list of potential options.
1030 -11.30pm Plant Science
1030 am - Sinead will go through some of the topics that will need to be studied for the exam. Afterwards I will go through a sample exam paper with you. ion.
12pm- 1pm Communications video presentations.
Can everyone intending to do their video presentation please confirm with me by email so I can plan how much time we need to set aside for them. Remember you can do it on whatever topic interests you. Get in touch if you need any help. If you are doing a slide show please bring your own laptop as that will probably make it easier for you.
1pm - 2pm Lunch Don't forget Deirdre is doing lunch for us on Sunday so don't forget to email her if you would like to order one of her delicious soups with bread. Email at: deirdrebmorrissey@gmail.com
2 to 3pm Plant Protection
We will do some exam revision and also introduce the next assignment for this module
3-4.30pm Plant Propagation
For this module we will start by going back over the notes so far and then cover some of the topics that need to be studied for the exams in April. Then we'll do the next practical assignment which is on "Vegetative propagation". I will demonstrate three different methods of vegetative propagation that are suitable for doing at this time of the year. I'm hoping to get outside for these practical demonstrations so let's hope the weather co-operates with us on the day!
I look forward to seeing you all at some stage over the weekend. I understand not everyone can make it to all the weekends therefore all details of events covered will be posted on the website.
Bring warm clothes (it can be very cold in the college in winter), waterproof rain jacket and boots and gardening gloves . Bring a camera and pen / paper.
Handy information:
If you are staying overnight try B&B with Betty Reidy, Oriel House in the village square: 063 83140 (other B&B's in Newcastle West and Charleville). Another option is Ashdale Farmhouse in Feohanagh, about 2 miles from Dromcollogher on the Newcastlewest road. Contact Bridie Scanlon at 069 72282.
Tea, coffee and biscuits provided. You can bring your own lunch or treat yourself to some warm lunch that will be prepared by Seamus and Anna. Bring warm clothes, waterproof and boots (it can be very cold in the college in winter) Bring a camera and pen / paper
Directions are here: http://organiccollege.com/contact/ (scroll down to bottom of page) If you are driving a long way and would like to offer a lift, make a post in the General Discussion forum.
See you at the college!
Last modified: Monday, 7 March 2016, 08:22 AM