Recommended Books and Magazines
This page gives a list of recommended reading for all the modules. A few references are universally helpful and they are listed first.
You don't have to buy any books to complete these courses - all the information you need to pass will be contained in the course notes. This list is just if you're interested!
If you have suggestions to add to this list, please let use know.
---
Where to buy books
Most of the books on this list can be had from on-line retailers like Amazon who usually offer the cheapest prices.
However, supporting your local bookshop is a worthy endeavour. Most bookshops will order you in a copy and once you take into account Amazon's delivery charges you may find the price is quite similar.
Two Irish booksellers dedicated to the Organic and Sustainability market are:
If you know of any other good sellers in your area please let us know and we'll add them to this page.
---
Recommended General Reading
Whichever modules you are studying you might like to take at look at some of the following.
---
Books
HDRA: Encyclopedia of Organic Gardening
by Anna Kruger (Editor)
This is an excellent and practical guide to all aspects of managing your organic garden. It covers all the important areas from organic philosophy to soil and pest and disease control.
Bob Flowerdew's Organic Bible
Successful Gardening the Natural Way
by Bob Flowerdew
Bob has his own inimitable style and has wonderful quirky and imaginative suggestions. Packed full of handy tips.
Grow Your Own Vegetables
by Joy Larkcom
Joy now lives near Clonakilty. My Dad swears by this book - quite dense information and not many pictures but fantastic advice on all aspects of organic veg. growing. Her innovations with Oriental salads are inspirational.
The Complete Book of Vegetables Herbs and Fruit
by Matthew Biggs, Bob Flowerdew, Jekka McVicar
Great guide to growing a huge range of things. Has excellent recipe suggestions too. Lots of organic tips. Goes well with the Food Crops module but handy for all of us!
Organic Farming
by Nicolas Lampkin
This is still probably the best all round guide to Organic Farming. If you're interested in how to do things at the farm scale then this is invaluable. Covers tillage, livestock, field-scale veg and plenty on fertility and philosophy.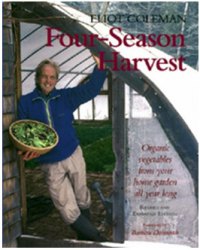 Four Season Harvest
by Eliot Coleman
'The new organic Grower' and the 'Four-season Harvest' from author and organic farmer Eliot coleman are both excellent practical books on small-scale organic farming, with solid information and a must read for both the novice and expert gardener.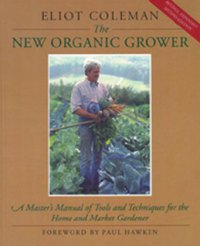 The New Organic Grower
by Eliot Coleman
'The new organic Grower' and the 'Four-season Harvest' from author and organic farmer Eliot coleman are both excellent practical books on small-scale organic farming, with solid information and a must read for both the novice and expert gardener.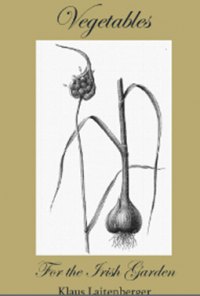 Vegetables for the Irish Garden
by Klaus Laitenberger
Vegetables for the Irish Garden by Klaus Laitenberger who has been farming in Ireland for over 10 years. The book is specially geared for growing vegetables in Ireland with lists of appropriate growing dates and suitable crops. Very informative and clearly written with some lovely illustrations.
---
Magazines
The Local Planet
Excellent Irish quarterly newspaper - highly recommended see their website for more.
Organic Matters
IOFGA
Quarterly magazine from IOFGA
Organic Farming Magazine
Soil Association
Quarterly magazine from The Soil Association
The Organic Way
Garden Organic (formerly HDRA)
Quarterly magazine from Garden Organic
Permaculture Magazine
Permanent Publications
Quarterly magazine from Permanent Publications
---
Organic Food Crops
Magazines
In putting together a recommended garden magazine section we are endeavouring to present you with the magazines you are most likely to encounter at a decent sized newsagents or in a filling stations forecourt shop. There are lots of garden magazines and it would be impossible to cover them all. We look here at garden magazines in general as well as specific organic gardening, or fruit and veg growing magazines because none of us solely gardens for food. A few magazines you will only find in Easons or other large bookshops. Bear in mind that most shop keepers can order almost any magazine from the distributors for their customers -so ask and you shall receive! Many of the more obscure titles are available by mail order or over the internet if you cannot find them in your local shop.
Also note that growers at different stages will require a different type of magazine. For me its one with lots of how-to's and lots of questions and answers. For someone who has gone beyond the stage of asking questions their focus will be on other issues, as will anyone who is just starting out. Accept these reviews but by all means decide for yourselves which type of magazine best suits your current needs.
Amateur Gardening; a weekly magazing with very practical advise on plants, how to's, wildlife management,ask the experts,expert opinion (Bob Flowerdew regularly contributes), seasonal planting, book reviews, grow, cook and eat section and visits to readers gardens. It's a garden all rounder that leans more to wildlife and fruit and veg gardening than most other all rounder garden magazines. This is not strictly an organic gardening magazine but it does give a nod to organic gardening. Its reasonably priced at £2.80 a week and is low on ads. It's "grow, cook and eat" and "how to" sections are excellent. Find out more at www.amateurgardening.co.uk
Gardeners World; is a monthly magazine at the heftier price of €5.45 per issue. However this is a very practical magazine filled with what to do this month, loads of how to's, great sections on plants with divine photography,expert contributors like regulars Alan Titchmarsh and Monty Don, special features on particular plants like Roses and buying garden essentials like glasshouses, garden design slots, a whole what to do now section for the month, an organic allotment section, grow to eat section, a wildlife section, best buys for garden accessories, Q and A, a readers comment page,gardens to visit, upcoming events and more.It's low on ads and good on practical advise and how to's. Events and discount vouchers are useless to ROI residents and upcoming events do not include any in the Republic. Not heavy on fruit and veg it does a good job as a garden all-rounder and does have sections like the organic allotment section specifically for Organic gardeners.Find out more at www.gardenersworld.com
Gardens Illustrated; is a monthly magazine firmly wedged in the expensive bracket at €6.75 a copy.As the name suggests this is a magazine firmly focused on stunning photography aiming it at the coffee table rather than the garden shed! This magazine features plant profiles, a tree series, letters page, opinion, interviews with garden specialists, garden visits, a garden diary for the month with a jobs to do list, a design section, book reviews and tonnes of stunning pictures. This is strictly for armchair gardeners, no how to's or organic sections. Beautiful to look at though and the gardens visited are inspirational. A magazine to give you ideas for how your own could (should?)look. There is no official website for the magazine.
Garden Answers is a monthly magazine in the afore mentioned heftier price bracket of €5.25. It's practical from the word go kicking off with what to do this month in the garden (a nod here to the veg garden), a special on a plant to grow that month, a letters page, several plant specials, excellent Q and A section (with pages on veg questions and answers),good how to, garden visits, photos of readers gardens,a wildlife section, buyers guide to garden tools, new gardening gadgets page, a grow your own section and a new section on decoding latin plant names. Again this is a gardening all rounder magazine, extremely light on growing fruit and veg, no real references to organic gardening but the Q and A section is excellent as is the buying guide at the end for clothing and tools.There is no official website for the magazine.
Organic Matters is the magazine published every two months by IOFGA the Irish farmers and Growers association. This is strictly for people wholeheartedly involved in , or seeking to become involved in, the Organic sector. That said you won't find any how to's in here. Its not strong on coffee table glossy photos either or inspirational visits to beautiful organic gardens.Organic Matters is a think thank for the organic sector, it promotes organic food, interviews growers, has features on fruit, veg and herb growing, a letters page, lots of advertising for producers and contacts within the sector, some recipes, wider environmental and socio-political issues highlighted and lots of comment and opinion. It's an armchair read for the bigger picture and to see what's happening within the sector in Ireland. Find out more at www.organicmattersmag.com
Kitchen Garden is a monthly UK magazine that costs about €5.95 and declares itself to be "the magazine for people who are nuts about growing veg, fruit and herbs". It kicks off with news and views page, your plot, jobs this month, growing under cover, the fruit garden, plant specials (really thorough and excellent),letters and tips, how to's, container growing,pest patrol, readers gardens, what to buy,organic gardening, allotments, give-aways, season recipes, chickens from scratch and an index. It does completely focus on growing for food which is a nice change from the more general garden magazines. The organic section is very short but at least it gets a mention.The plant specials are really excellent and its so refreshing to see people actually working in the photos! This is a great magazine to get your hands dirty and get you inspired.Find out more at www.kitchengarden.co.uk
Organic gardening magazine is a monthly UK magazine that you are likely to find only in Easons or bigger newsagents. It sells for about €4.77. It does exactly what it says on the tin, special plant features, organic news, organic lives profiled, seed saving, wildlife, garden visits, polytunnel growing, chicken section, heritage vegetables, garden design, indoor plants, what to do this month, gardeners kitchen, books and products, diary dates, classifieds, and lots of organic related advertising. No how-to's , no Q and A no mention of wither offers apply to just mainland UK or not. The classifieds section is unusual but the magazine is pretty standard stuff, nothing ground breaking here. Find out more at www.organicgardeningmagazine.co.uk
Garden Heaven is an Irish publication issued every month and priced at €4.95 a go.This is strictly the armchair read, filled with glossy gorgeous pictures and driven by expert articles.You can expect to find garden news, upcoming events, seasonal jobs (with no pictures of anyone doing anything!),cookery, nursery profiles, wildlife, book reviews, gardening on-line, interview with an expert, opinion, garden visits, plant profiles and a design section. Don't expect how to's or questions and answers here but there is plenty to inspire you for your own garden and it's a good magazine to get the wider Irish gardening community picture. It will also keep you in touch with events and inspire you to visit other gardens. No mention of organics!Find out more at www.gardenheaven.ie
Grow Your Own; a monthly magazine based in the UK and costing €5.80 per issue. This is aimed squarely at kitchen gardeners, allotment holders and small home producers. Expect to find articles on the veg plot this month, a letters page, news page, the allotment gardener, growing undercover, herb of the month, practical growing of a crop, equipment trials, this month in the orchard, competition, an organic section, wildlife and plant specials, practical how to, ask the experts, keeping poultry, special offers, what's in season with recipes and opinion pages.There is far less in the way of experts diaries here (although Jekka McVicar and Matthew Biggs both contribute) and more hands on "how to". The organic section is the most decent of any of the non-organic magazines and the section on what's in season is really very good with a handful of recipes to try out. Although there is a certain amount of advertising it doesn't swamp the magazine. If you could cross this with the BBC Good Food Magazine and Organic Matters what a fantastic read you would get! Find out more at www.growfruitandveg.co.uk
Organic Soil Management
---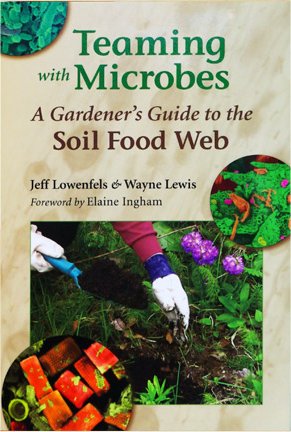 Teaming with Microbes
by Jeff Lowenfels and Amy Lewis
Good book on the living soil and how to maximising the contribution of soil life to enhance crop growth.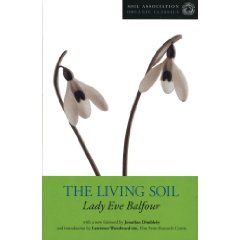 The Living Soil
by Eve Balfour
Classic book - also available free online: http://organiccollege.com/dl/file.php/1/the-living-soil.pdf


Organic Plant Growth
---
Principles of Horticulture
4th Edition
by Adams and Early
Superb coverage by this RHS approved book - you don't need to know everything in this book to pass! Only need to by if you're very enthusiastic!
Botany for Gardeners
Revised Edition
by Brian Capon
American book but very relevant and clearly written, again you don't need to know everything in this book to pass! Only need to by if you're very enthusiastic!
---
Organic Conversion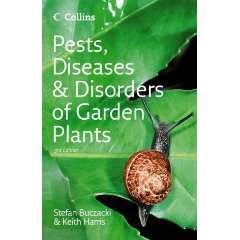 Pest, Diseases and Disorders of Garden Plants
by Stefan Buczacki & Keith Harris
Very detailed book for identifying pests and diseases - much more than you'll need for this module but interesting if you're experienced!
A few useful books for Plant identification if you get bitten by that bug!
The Wild Flower Key (Revised Edition)
How to identify wild plants, trees and shrubs in Britain and Ireland by Francis Rose, Clare O'Reilly
One of the best 2 guides for identifying flowering plants (including trees) for the British Isles. Emphasises the use of keys which makes it easier to track things down if you don't know what family they're in. Doesn't include grasses + sedges etc. Probably easier for beginner's than the one below.
The Wild Flowers of Britain and Ireland
The Complete Guide to the British and Irish Flora by Marjorie Blamey, Richard Fitter, Alastair Fitter
One of the best 2 guides for identifying flowering plants (including trees) for the British Isles. Includes grasses + sedges etc, has many distribution maps. Complete coverage.
Choose between this one or the one above if you're buyig one Id book.
The Identification of Flowering Plant Families
Fourth Edition by James Cullen
No pictures! But it's a very good key to use for identifying the family that a plant belongs to. One for the enthusiasts this - but it will set you on the path to being able to identify at the family level pretty much anything you could find.
Plant Names Simplified
Their Pronunciation Derivation and Meaning by Johnson and Smith
Originally written in 1931 this small book help with quite a few of the commonly encountered terms.
Stern's Dictionary of Plant Names for Gardeners
A Handbook on the Origin and Meaning of the Botanical Names of some Cultivated Plants by William T Stearn
The most comprehensive dictionary of this type that you'll find.
Plant Names Explained: Botanical Terms and Their Meaning
by Hillier
What may seem at first a dry but necessary convention is revealed to be a way of opening up the intriguing world of plants and plantsmen. Based on William T Stearn's Botanical Latin, the classic work on the subject, Plant Names Explained is much more than an indispensable practical guide and superb reference book - it is an engrossing read.
---
Sustainable Development
---
The Earth Care Manual
by Patrick Whitefield
Patrick is a Permaculture teacher with the most practical advice you'll ever find on all aspects of sustainability. If you're planning a more sustainable way of life in Ireland or the UK, this is the first book you should put on your bookshelf. Packed full of tried and tested techniques on everything from green building to woodlands and fruit to poultry and design skills to water. It is the main course text on the Kinsale FEC Practical Sustainability Course.
Permaculture in a Nutshell
by Patrick Whitefield
Another great book by Patrick - if the above mentioned bible is a bit too pricey and heavy, this little gem will introduce what permaculture is - and no, it's not just messy gardening! I used to think Permaculture was just for radical hippies - but I now see it as a central part of my life, helping me to design solutions for almost anything. Permaculture is a design system and it's wonderful!
The Complete Book Of Self-sufficiency
by John Seymour
Encyclopedic in format, this is an A-Z and includes smallholding skills, how to grow vegetables throughout the year, animal husbandry, making beer and preserves and countless other useful gems. John Seymour is hailed as the father of self-sufficiency and quite rightly so. A perennial classic.


Communications
---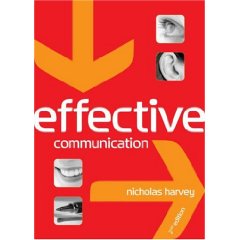 Effective Communication
by Nicholas Harvey
The recommended course text for Communications FETAC level 5 - we will pull plenty of notes from this so no need to buy it unless you're especially keen!

Last modified: Monday, 28 February 2011, 11:00 AM